Our Little Guy is 24 months!
We have been having lots of fun with Tot School lately! The weather warmed up one last time where we live, giving us an opportunity to swim last weekend and this weekend. Yay! So to go along with the weather we did a few ocean-themed activities to learn about the ocean in English and Spanish. We are linking up with 1plus1plus1equals1.net for Tot School Week 35. Be sure to head over there and check out all the other awesome Tot School ideas!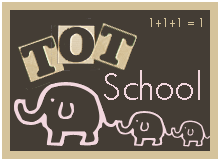 Over the summer I have been getting inspiration and ideas for ocean activities from Pinterest of course. You can check out my Ocean Board here. Also, Gift of Curiosity just did a great series of Ocean-themed activities and book lists. And for some bilingual fun, check out this cute ocean craft idea from Toddling in the Fast Lane. I still want to do a few crafts like the hand-print crab, but we ran out of red paint due to Jefe's late night escapades, so maybe this week we will get around to that. Here is what we did with what we had on hand at home.
Note: This post contains affiliate links.
I had found this fun Melissa & Doug Habitats Reusable Sticker Pad
on sale at Office Max last year and thought it would be fun to use for mirror art. We found a recipe for washable window paint and mixed up some blue green to turn our mirror into an ocean habitat for our ocean animal stickers.
First we hung up all the animals. As I peeled off each reusable sticker I said the name of the animal in English and Spanish. Check out the chart below of all the ocean animal names we are learning (pronunciation included)!
Stickers are perfect for strengthening fine-motor skills, and the nice thing about the reusable ones is that you can take them off and readjust them and they do not get stuck to themselves, making toddler frustration less.
Usually when we do a project or craft I always have an idea in my mind of what it should look like, but I tried really hard this time to let Little Guy take the lead and encourage him in how he wanted to make it. I only helped him re-situate the sticker if he wanted help. It was neat to see his creativity at work…something I guess I have not done with him much yet.
Then I dipped the sponge brush into the paint, modeled a wavy line and said, "Look we can paint an ocean…el mar!" Next I handed the brush to him and let him at it!
At the end I labeled it "mar" which is the word for "sea" in English. Jefe woke up from his nap as we were finishing up and wanted to add a few waves himself. I did not realize what a fun project this would be for Little Guy and how proud he would be of it! Every time we go in the bathroom he sees his masterpiece and says, "Look what I made!" So glad we are doing Tot School and that I am able to take intentional time to play and create with my Little Guy!
Later in the week I dug out these ocean paintable scenes from Red Farm Studio. It is amazing what you can find just around the house. I did not spend any money on our ocean activities, just used what we had at home.
My Little Guy has not had much exposure to painting yet, especially with water colors, so we made a little voice pattern to remind us of the steps, "Agua, pintura, papel." (Water, paint, paper) I modeled it first, and then he practiced on his own while I narrated. It was good practice for his little brain to think in sequence like that . . . if he did not do water first, the paint would not work as well. Although he mostly ended up painting with water. 🙂
As you can see, Jefe watned a turn too. He painted the tortuga. After we painted we went into their room to just play and as my Little Guy was linking up toys it started to look like a circle, which gave me an idea. I ran to get the masking tape and made an "O" for océano and "M" for mar.
It is funny as I look at the pictures and realize it spells "om."
Then we decided to make the "O" orange, because orange starts with "O" too! Sorry the pictures are a little blurry–I had to snap them fast in all the action.
To end out the week we got a chance to go swimming with the boys' Nonna. I brought some ocean animal pool toys and a net for the boys to go "fishing" with. They were more interested in throwing them of course. 🙂
Here they are all tuckered out from playing!
There was one more book we found on our shelf with a picture of sea life. Little Guy had fun matching the pool toys to the pictures of the real animal on the page. So that is what we did this week! What did you do in your Tot School? Is your Tot School bilingual? How do you integrate the two languages with your littles? I would love to hear your comments below!
| | | |
| --- | --- | --- |
| | | |
| tiburón | tee-booh-RON | shark |
| pez | pehs | fish |
| peces | PEH-sehs | fish (plural) |
| calamar | kahl-ah-MAHR | squid |
| cangrejo | kahn-GRAY-hoh | crab |
| langosta | lahn-GOH-stah | lobster |
| medusa | may-DOOH-sah | jellyfish |
| foca | FOH-kah | seal |
| anguila | ahn-GEE-lah | eel |
| ballena | bah-YAY-nah | whale |
| delfín | dehl-FEEN | dolphin |
| estrella de mar | ehs-TRAY-yah day mahr | sea star |
| raya con púa | RAH-yah kohn POO-ah | stingray |
| hipocampo | ee-poh-KAHM-poh | seahorse |
| caballito de mar | kah-bah-YEE-toh day mahr | seahorse |
| tortuga marina | tohr-TOO-gah mah-REE-nah | seaturtle |